Anyone with a website knows it's important to have access to website metrics. You need to know how many visitors you are getting, where they are coming from and what they are doing on your site.
So I am sure you already have one of the many web analytics tools in place, even if it's only Google Analytics.
But let's be honest, how often do you really check your site metrics?
My guess is; not too often. In fact, our data suggests most people don't view website traffic reports more than once a month.
The problem with that is that one day, even if you have the best analytics tools, you'll open up your reports and be like this: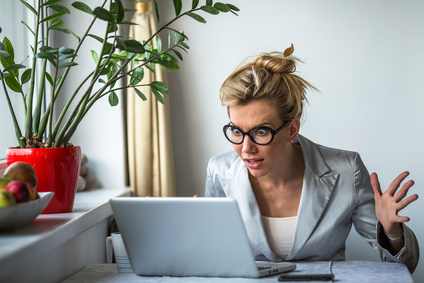 Now, I'm not suggesting you dwell on all your site metrics every day, because for most of the numbers once a month is fine.
But there are a few you should be monitoring closely. These website metrics can reveal disaster or fortune. Left unchecked they can cost you dearly when traffic patterns suddenly change.
You don't want to find out your traffic collapsed 3 weeks ago or that Google has banned your site! Likewise, it might be nice to know you made the front page of Reddit and there is smoke coming out of your server!
So here goes, my choice of essential website metrics to check each day:
1. Visitors and pageviews
This one should speak for its self. Monitoring the daily number of unique visitors and pageviews is an easy way to check if your site is performing as expected. Any large dips or spikes will be easy to spot and allow you to investigate further.
2. Conversion rates
Visitors and pageviews tell you something about the quantity of your website traffic. Your conversion rates will tell you something about the quality of that traffic.
Of course you shouldn't just measure conversion to your sales confirmation page. You should also measure it for things like newsletter sign ups, contact forms and key pages involved in your customer's journey.
So make sure you have your conversion tracking set up. Its called Goal Url's in Google Analytics, Logaholic calls it Key Performance Indicators.
If you haven't done so already, set it up now! Because you will want to know if your website traffic is converting the way it should on a daily basis.
3. Top Pages
Make sure to include a top 10 or top 20 pages report in your daily review. You want to keep tabs on what the most popular content on your site is. If one of your pages suddenly gets a lot of traffic, you want to catch that in time so you can make any changes or improvements to that page while it's hot.
4. Top Referrers
Like pages, you want to know where your traffic is coming from so you can respond when needed.
5. Bounce Rate
A "Bounced visitor" is a user that accessed only one page on your site and then left. In general, large changes to your daily bounce rate mean something fishy is going on and it's time to take action.
Other website metrics
These 5 site metrics are available in most web analytics tools, but there are many more website metrics. You can find a list of web analytics definitions here.
Get your daily dose automatically
Logaholic makes it very easy to organize these reports in a dashboard so you can always access your website metrics quickly.
Also, Logaholic allows you to set up daily emails with your own choice of reports. You won't even have to go log in to your reporting system, they automatically land in your inbox every day.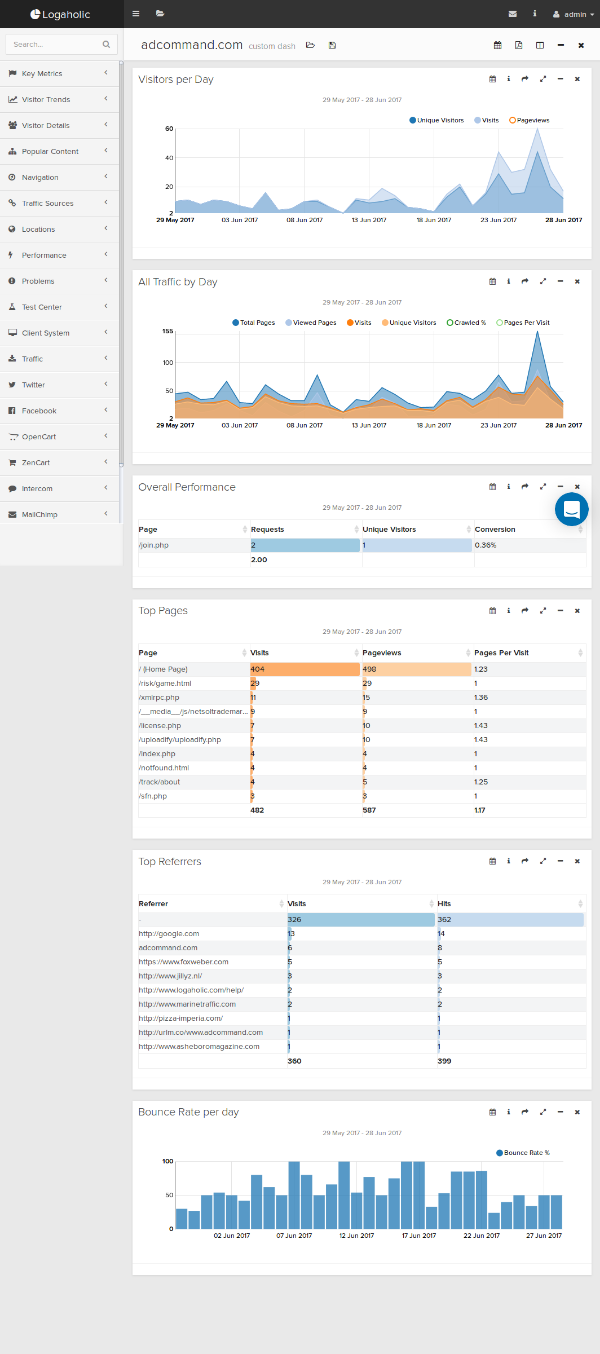 Never miss an update. Sign up to receive an email whenever we post something in the blog.