Most website owners don't know which web browsers are used by their visitors. Unfortunate, because compatibility issues can lead to huge differences in how a website is displayed.
Having knowledge about the browser (versions) is very important. As a website owner you should always make sure that your site is cross-browser-compatible. But, why would you spend time and money making your website compatible with IE 5 while almost none of your visitors use it anymore? With Logaholic you know where to put your efforts so you can optimize your site more effectively!
Logaholic 4 includes many new features. One of them is the completely renewed browser visualisation. Logaholic's Browser Breakdown report has taken a huge leap forward, displaying a sophisticated donut graph by default.
As you can see in the screenshot below, we distinguished three main browser categories: Internet Explorer, Firefox and Other. These categories are represented by the inner circle in the graph. Interesting numbers, but our users require further specification. That's why we added another circle containing segments within browser categories. Of course, we also displayed the version numbers in table below the graph.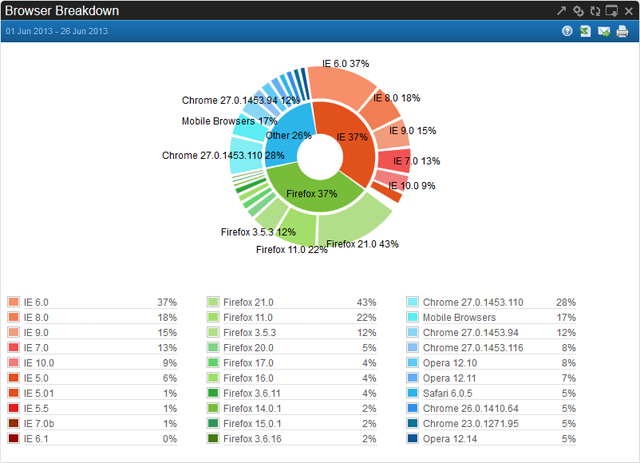 For those of you who haven't found the time to download (or upgrade to) our latest version yet:
Get Logaholic 4.0 here.
(If you're upgrading a self hosted edition from Logaholic 3.x, this manual item is very helpful.)
If you have any questions, please don't hesitate to contact us at:
support@logaholic.com or by phone: +31 20 337 3075
Kind regards,
The Logaholic team