Logaholic Web Analytics
Logaholic provides customers with an effective and reliable statistics solution. Our Web Analytics software is used in various industries and has grown to include many useful features. We use our analytical experience to be a leading source of information in many organizations. Many rely on us for measuring the performance of Content, Traffic, Keywords and Marketing.
An important part of our clientele is formed by hosting providers, educational institutions, and service/solution providers like web development and online marketing firms.
Since 2011 our software is included in cPanel, the world's leading web hosting control panel solution. A collaboration that has made Logaholic one of the most used web analytics tools in the world.
Our team is fully dedicated to further development of the software – working hard on new features and even greater usability. We are always available to assist you. Have a question or need help? Please Contact us.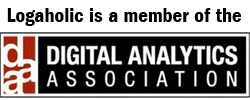 Our Clients
100% of our success so far has come from careful analysis of our server logs using Logaholic. We are very happy with Logaholic. My advice to any company (especially for new companies) is that the first thing you should do is to install Logaholic and configure it correctly. In our opinion, it??s much better to pay for an analytics program like Logaholic and know what it cost you, than it is to use a so called ??free?? analytics program from a company you advertise with like Google and not know how much it really costs?? Logaholic is just as good as Google Analytics, only your data stays private.
Logaholic seems to be the BEST solution available at the moment! The software is very flexible and great for my needs. All sites can be put onto 1 machine, so everything is together in one place and there is no data limit.